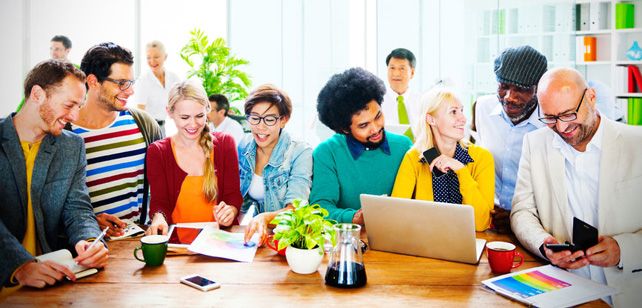 FXChoice Careers
We are hiring talent worldwide to foster the potential of our high-performing, multinational team. We excel in providing outstanding customer service in a very competitive Forex market. Industry-focused resources mark FXChoice as trusted broker, and we do our utmost to deserve and keep this reputation.
Who are we looking for to join our team? Successful applicants will be highly motivated and:
have strong interpersonal skills;
have a global and multicultural mind-set;
know that client focus is of paramount importance to the Forex industry;
adapt quickly to new, web-based digital working environments;
are ready to position themselves on a permanent learning curve;
be proactive when faced with challenging scenarios.
We believe that a comfortable working environment and employee well-being boost the productivity of the company, as well as boost the loyalty of our colleagues; this is why our company is one of the best places to work. We trust our employees and help them to improve their professional competencies, so you can work with FXChoice not only in our green offices, but also remotely.
We offer a competitive salary depending on your experience and skills. We also offer a performance-based quarterly bonus, not to mention many other incentives and perks that we are sure will make you want to stay with us, long term.
Our vacancies:
Currency Researcher/Currency Strategist
We are looking for highly competent Currency Researchers/Strategists who can combine strong analytical skills with a flair for writing/editing. Such experts are the core specialists of any mature Forex company; we are therefore prepared to recruit star talents and offer special employment conditions.
The job:
To produce analytical research and to write reports concerning Forex market trends on a daily and monthly basis. The main focus of the successful candidates will be on market-moving events concerning G7 countries, exotic currencies (including cryptocurrencies), precious metals and СFDs.
We are seeking mature candidates with experience in:
providing trustworthy forecasts based on quantitative analysis and financial modeling;
creating outstanding digital content focused on an English speaking audience (Forex traders);
writing daily news and long reads, blogging and SMM (considered an advantage).
Applicants of choice will have:
a native level of English (or very close to it);
strong writing/editorial and analytical skills;
the ability to generate valuable and easy-to-use content;
a minimum of 3-5 years' experience in Forex market analytical research and editing/writing;
an adequate portfolio proving outstanding experience;
good interpersonal skills to become an organic part of our multinational team.
We offer a very competitive salary, depending on the successful candidates' experience and skills. We also offer a performance-based quarterly bonus, not to mention many other incentives and perks that we are sure will make the right candidates want to stay with us, long term.
Outbound Sales representative
FXChoice is looking for an Outbound Sales representative to build strong relationships with our new customers through a robust 'onboarding' programme (educating them on our products and services, assisting with verification and funding process, etc.). We are looking for new colleagues to operate across three different working schedules:
12:00(13:00)-21:00 (22:00) AMT (focus on US and Latin America) ,
10:00(11:00) -19:00(20:00) AMT (focus on Australia and New Zealand)
11:00 (12:00)- 20:00 (21:00) GМТ+3 (Focus on EU)
Outbound sales representative responsibilities include:
Educating customers about our services.
Assisting customers with account verification and funding procedures.
Respond to customer concerns and questions
Meet call and account conversion targets.
Duties:
Make outbound customer calls to promote and share company information using the provided script as a guideline
Ensure superior customer service, contributing to the overall customer experience.
Identify opportunities to grow the business with existing clients
Record outbound call history and customer response in detail (CRM).
Work to support the Affiliate Manager as requested.
Keeping new clients up to date with products and services.
Requirements:
Entry-level sales skills and an ability to deliver an excellent customer experience
Excellent verbal and written communication skills (English, Spanish or German as a second language will be considered a plus)
Excellent listening, negotiation, and presentation skills
Result-oriented, self-motivated individuals who are able to thrive in a results-driven environment
Business acumen with a problem-solving attitude
Ability to learn fast and adjust to permanent changes in products and services
Experience in the fintech industry (customer service, onboarding or sales departments) and previous focus on US, Australia and Latin America regions will be considered an outstanding advantage
Compensation Structure:
Competitive base salary (starting point for negotiations is USD 800) plus monthly bonus depending on clients' feedback, number of calls managed per period and others KPIs)
Paid vacation (12 days per year) and sick time
If you're interested in joining FXChoice, please send your CV to hr@myfxchoice.com. If there are no vacancies currently suitable for you, but you are an experienced professional with a deep understanding of the Forex market, we will keep your CV in our database for future use.